Guided Tours of Arkansas' only Lakeside Cavern
The spectacular natural entrance of War Eagle Cavern sits in a boxed canyon on the edge of Beaver Lake.
Traditional Cavern Tours
Friendly expert guides will lead visitors on the easy, wide open pathway along the edges of the stream that flows throughout the cavern. The path on this breathtaking adventure wanders throughout huge rooms while the guide explains the incredible "domes" and other formations located in the first half-mile of this huge cavern. Our resident bats and salamanders have also been known to make appearances during the tour.  After the tour enjoy our pristine walking trails and scenic lake views as you make your way back to our gift shop.  The cavern stays at a constant 58 degrees year-round, is stroller accessible, and pet friendly making it the perfect adventure for the entire family. Tours leave about every 20 minutes each day throughout the season. The Last tour leaves one hour before closing.
2 Person Minimum.
Traditional Tour Tickets:
Adult: $22.00 + tax

Child (age 4-12): $13.00 + tax

Ages 3 and under: FREE

All minors must be accompanied by an adult.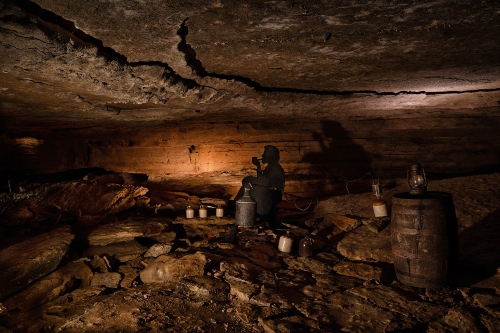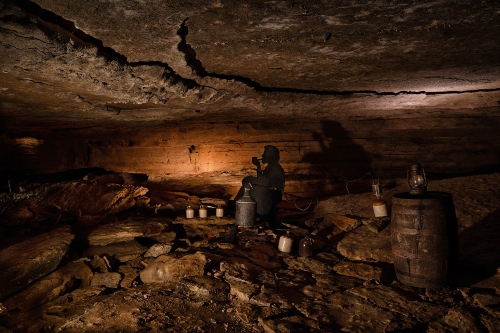 Lantern Tours
Experience War Eagle Cavern like the explorers of old. Guests will tour the cavern using hand held oil lamps as our friendly guides share stories and history not heard on any other tour! Tickets may only be purchased online at least 24hrs in advance.
Lantern Tour Tickets:
$30 per person
Available Fridays and Saturdays from Memorial Day – Labor Day
Ages 13 and up only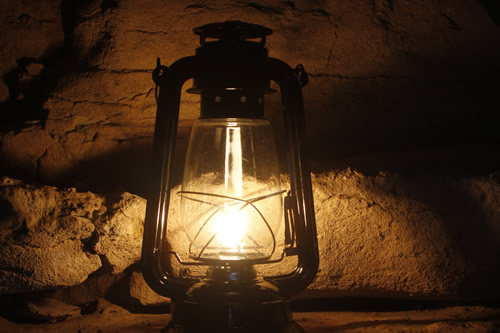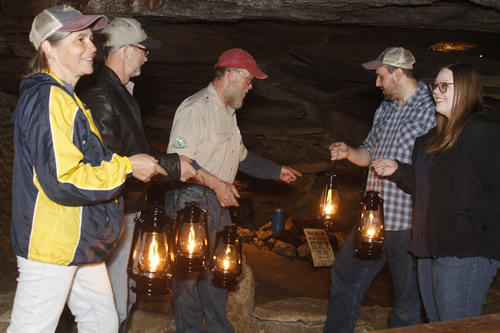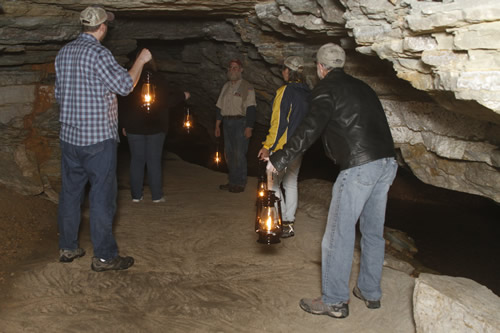 Wild Cavern Tours
Reservations Required
Offered Mid-July through October.
Not Available Labor Day Weekend
 Our Wild Cavern Tour begins where the guided traditional tour ends!
If you have a few hours and a sense of adventure, this tour is for you!
Twist, crawl and climb through unconditioned passages that few people ever see!
See incredible formations, gigantic domes, cave wildlife and more!
Explore almost 2 miles of cavern including the 100ft tall underground canyon!
WHAT TO KNOW
Reservations are required for the Wild Tour and must be made at least 48 hours in advance
Minimum of 4 spelunkers per tour, 10 person maximum. (Larger groups my be accommodated by special arrangement.) All participants must be at least 12 years old and in good physical condition. At least one adult and signed waiver of liability required.
Helmets, headlamps, kneepads, and gloves are required and will be provided.
Allow about 3 hours for the tour. Participants will get wet and muddy so wear long sleeve shirts, long pants, and durable lace up shoes (shorts, slip on shoes, flip-flops/sandals not permitted).
Be sure to bring a full change of clothes
$30 deposit required when making reservations. You must provide at least 24 hours' notice for rescheduling or cancelations or forfeit deposit.
Wild Tour Tickets:
$70.00 per person
To Make Reservations Call: 479-789-2909